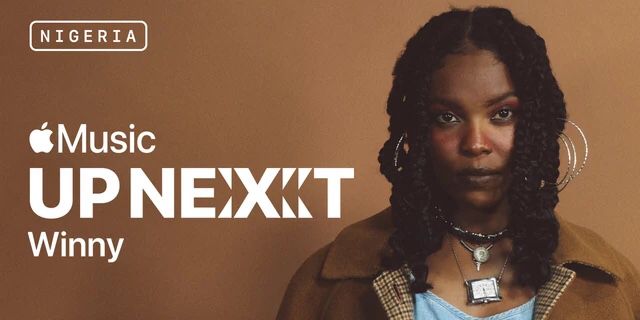 It's honestly been surreal being at this very point in my professional career to now being considered 'Up Next'," she tells Apple Music. "Growing up in the City of Jos, Nigeria, listening to a lot of reggae and indigenous music inspired my sound. I'm grateful to everyone that's played a part in my journey and that has been supporting me so far. Thank you for accepting my sound. More to come!"
Drawing inspiration from Jamaican artists Chronixx and Kranium, as well as Nigeria's star boy Wizkid, Winny's music is a striking blend of reggae, R&B, and Afro-infused melodies amplified by emotive lyrics.
Her debut self-titled EP 'WINNY' (2023) is a bold blend of dancehall-infused R&B. It was released through Land Records/The Orchard and it's available to stream on Apple Music in Spatial Audio.
As the newest Up Next act to be spotlighted in Nigeria, Winny will be featured across Apple Music's Nigeria's Up Next playlist. The curated Up Next playlist features a dynamic class of new and emerging artists, thoughtfully hand-picked by Apple Music editors from around the world. The playlist is genre-agnostic and represents a line-up of artists our global editors are passionate about and eager to expose to a larger audience.
Winny joins Pawzz, Novemba, Ogranya, Majeeed, Khaid, Ninety, Young Jonn, T.I Blaze, Browny Pondis, Ajebo Hustlers, Jaido P, Wavy The Creator, and SGaWD as Apple Music's growing stable of Up Next Artists from Nigeria.