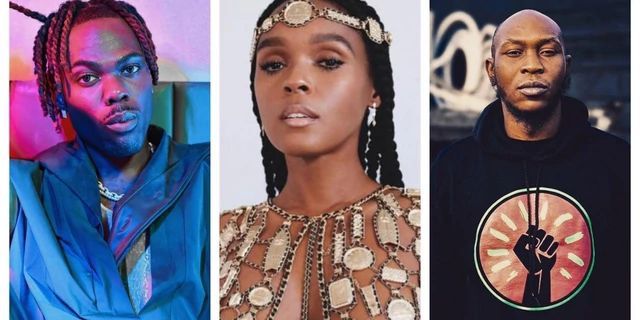 In her highly anticipated album, 'The Age of Pleasure,' American music star Janelle Monae ventures into Nigerian sounds, featuring exceptional collaborations that highlight the talent of CKay and Afrobeat Grammy-nominee Seun Kuti & his Egypt 80 group.
Renowned singer-songwriter Janelle Monae has unveiled her latest musical endeavor, the eagerly awaited album titled 'The Age of Pleasure.' Among its standout tracks is the remarkable collaboration 'Know Better,' which features international Afrobeats sensation CKay and Afrobeat luminary Seun Kuti, along with his legendary Egypt 80 group.
This captivating partnership brings together artists from diverse musical backgrounds, resulting in a fusion of sounds that pushes boundaries and captivates listeners. While celebrating Janelle Monae's exceptional artistry, the album also serves as a platform to showcase CKay's unique talent and contribution to the track.
CKay, who gained global recognition in 2020 with the viral success of his hit single 'Love Nwantiti,' has established himself as a highly acclaimed artist known for his innovative approach to music. His distinctive blend of Afro-fusion and contemporary sounds has garnered him a dedicated fanbase and international acclaim. Collaborating with Janelle Monae on 'Know Better' is a testament to CKay's remarkable talent and his ability to transcend genres, leaving a lasting impact on listeners.
In 'Know Better,' CKay's musical prowess shines through, infusing the track with infectious energy and his magnetic presence. The synergy between CKay and Janelle Monae's visionary artistry results in a compelling musical experience that defies categorization and resonates deeply with audiences.
CKay's journey as an artist has been marked by notable achievements, including chart-topping hits and collaborations with industry heavyweights. His unwavering dedication to his craft and his ability to connect with audiences through his music have solidified his position as an emerging force in the industry. The collaboration on 'Know Better' not only exemplifies the power of artistic collaboration but also celebrates the diversity, innovation, and limitless potential of music to bridge gaps and unite people.
Additionally, the album features another captivating collaboration titled 'Float,' where Janelle Monae merges her jazz and soul influences with Fela Kuti's Afrobeat, a genre heavily inspired by jazz music. This collaboration with Seun Kuti & Egypt 80 further exemplifies the global appeal and influence of Nigerian music. It showcases CKay's role as one of the driving forces behind the international exportation of Afrobeats and underscores the enduring place of Afrobeat in Nigeria's vibrant music landscape.